event planning
CHOOSING YOUR EVENT'S TRANSPORTATION

On your special day, even getting where your going can be ceremonious. Chauffer driven limousines, classic and antique automobiles all offer modes of transportation befitting the style and theme of your wedding.
The vehicle provided by most livery services is the stretch limousine equipped with rear facing seats, dark tinted windows, stereo, drink center and privacy divider. Some firms also operate Roll Royce or other specialty cars. A few specialize in the classics and antiques.
Most services will quote a package price for your wedding based on 3 1/2 hours and reasonable traveled distances. The basic wedding service includes transporting the bride from the home to the church, a post ceremony champagne toast in the car, and a first ride for the bride & groom to their reception. There are many variations to the basic agenda which can be tailored to your specific plans.
On your You may also wish to hire additional limousines for other members of your party. Most limousine 0perators are well versed in wedding protocol and can assist you in planning your program.
CHOOSING A PHOTOGRAPHING FOR YOUR EVENT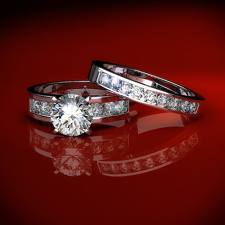 Most people have not had any experience in selecting a wedding photographer when they are first faced with the task. Brides are often surprised and distressed that the photographer of their choice was booked months ago and they must settle for an alternate choice. Investigate and select your photographer as soon as you possibly can. Many photographers are booked a year in advance.
Select a specialist in weddings who is familiar with wedding procedures and timing. He will anticipate the bridal couple's next move and will be in the proper place at the proper time. Review as much of the photographer's work as possible. It is a style of photography that you find attractive! Many studios offer various wedding packages from which you may choose. Other studios offer custom-tailored plans to help you buy only what you need, creating a wedding story uniquely suited to your tastes.
"Special effects" in photographs are popular today. These include softening techniques done with lenses and special filters, as well as super impositions and silhouettes. Photography studios generally work on a set schedule with someone available to talk to their clients during their business hours.
Let a photographer capture the story of your wedding day in photographs. Preserve the romance of your love by photographing the special events which make your wedding unique. In selecting a photographer, good communication is the key. Remember, the photographer will spend your wedding day working closely with you and mingling with your family and friends. Ask yourself these basic questions: "Does the bridal party look relaxed in the sample pictures?" "Do his/her candid shots look like candid shots?" "Are the photographs of good quality?" and "Will you enjoy working with him/her amidst all the excitement of your wedding?"
VIDEO TAPING YOUR SPECIAL DAY OR EVENT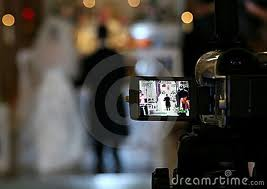 Your wedding day, which you will cherish and remember for the rest of your life. However, time has a way of fading the memories of even our most treasured events. Still photography helps recapture those special events, but in a limited fashion.
Videotaping recalls the sights, the sounds, the music, the laughter - every wonderful event as it actually occurred on "your day". You will always be able to recapture this day, months or even years later simply by replaying the videotape on your television set.
Some people use well-meaning friends or relatives to videotape their wedding. They may feel they are saving money, but, in reality, they are leaving to chance a day that can never be videotaped again.
A professional Videographer is experienced with regard to the day's sequence of events, lighting requirements, sound qualities, dubbing, editing, and copying capabilities, along with special effects that serve to enhance the finished product. A nonprofessional, or amateur, cannot assume the above tasks.
Because bookings are usually taken in advance - up to a year in ahead for those popular spring and early summer months - it is important to call your professional Videographer at least nine to twelve months prior to your wedding day. View a demo, check the equipment used and review what is included in the package deal. If you like what you see, you will usually be asked to sign a contract outlining your requirements and to make a modest deposit.
When your wedding day finally arrives, you will be able to relax and let the day's events unfold as they naturally occur. You will know that you will have this "special day" all your life. It's just a television set away.